Breaking: Obama in His Own Words: "My Muslim Faith" (see it on video)
Update #2
Credit goes to our visitor for this link and the photo. This link leads to a picture that very clearly shows a pregnant Governor Palin in Juneau (Post #24).
http://www.therightreasons.net/index.php?showtopic=8967&st=20
#Update 1
Lefty Bloggers Go After Palin's Daughter "Sarah Palin is NOT the Mother" is the title of this DailyKos blog that accuses Bristol, a completely fit looking adolescent teen, of having a "baby bump" in a photo they allege was taken March 9th of this year.  Not only is the DailyKos disgustingly inspecting Bristol's midriff with all the fervor of LA paparrazzi examining J-Lo's or Jennifer Aniston's washboard stomachs for evidence of a "bump" DailyKos is is wrong on when the photo was taken. It was taken, and published, by the Anchorage Daily News in 2006. Baby Trig, a Down's Syndrome child, was born on April 18, 2008. That's a long time for a teen girl to be carrying a "bump" which looks nothing more than the curve of a tight sweater.
Sarah Palin at home with her family in Wasilla, Alaska in 2006. From left is Piper, 5, husband Todd, Willow, 12, and at right is Bristol, 16. Not pictured is Palin's son Track, 17. Trig Palin was born in 2008.
Daily Kos has been circulating the story Sarah Palin did not have a Downs syndrome baby-that it was actually her daughter who had the baby. But here is a photo from ABC News  showing Sarah Palin pregnancy in February 2008.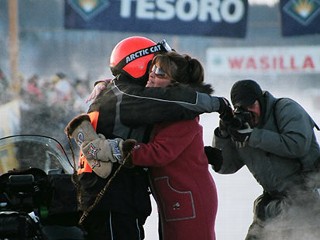 Here is another picture on March 5, 2008 from Anchorage Daily News website
Here is a post by a woman who say Palin in March 2008 and one of the things she said is that it was very obvious that Sarah was very pregnant.
Click here. Quote follows.
There were several of us PolarTRECers waiting in the Fairbanks, AK airport to catch our planes home. We were chatting about all we had learned when Kristen Timm, ARCUS administrator said " Look, there is the Hottest Governor in the United States" as she has been publicly deemed by media and fans.Of course I had to check out the "Hottest Governor in the US" and quickly turned to see her pregnant (she has since had her baby) with bags and daughter in tote.
If you enjoyed this post, please consider to leave a comment or subscribe to the feed and get future articles delivered to your feed reader.